As a result of their legitimate work, human rights defenders unfortunately often become targets of serious abuse. This can include physical attacks, threats to their lives or those of family members, negative coverage by state-controlled media or online surveillance, smear campaigns and hacking. Human rights defenders are also exposed to gender-specific threats and violence, as well as prejudice and exclusion.
This page will provide you with valuable tools and examples of good practices to conduct your work safely. Please, keep in mind that different types of human rights work in different contexts expose to different risks. Adapt the content you will find here to your context, keeping in mind the particularities of your situation.

Digital Security
Digital security has serious impacts in the physical world, particularly for human rights defenders.
Umbrella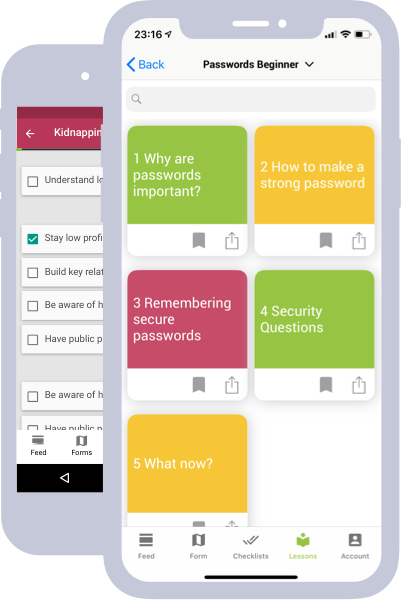 Security First makes Umbrella – a security manual in an app https://secfirst.org/umbrella/
This app offers simple, practical steps you can take to stay secure when you work, travel, and communicate. Umbrella includes guides to recommended security tools and instructions for your level, from beginner to advanced.
Online IQ – increase your digital security
Here's how to secure your Facebook through Facebook's security settings with your Android.