Communicating and promoting human rights is a key aspect of the work of human rights defenders.
However, communicating about human rights is a challenging task particularly since most target audiences are not used to a human rights narrative. Today, there are even more opportunities (and challenges) as new forms of digital communication allow anyone who has a message to reach very wide audiences by means of social media, targeted ads and online news portals, blogs, vlogs, etc. 
For guidance on different forms of advocacy and how to hone your "communication toolbox", check out these resources.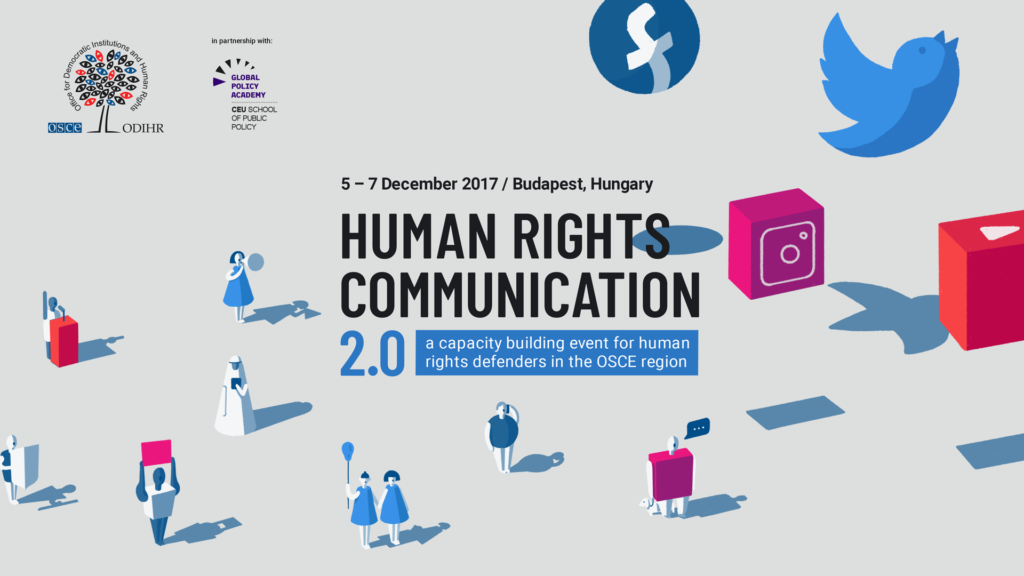 This page will introduce relevant tools that will help you tell compelling stories, find information, boost your campaigns, and reach out to your audience.
Telling stories
Telling untold stories with a mobile phone
Sumaiya Omar presents on how human rights defenders can use their mobile phones to tell their stories to the public and report on human rights issues more effectively.
---

Multimedia stories
New communication technologies have made the editing, publishing, and sharing of multimedia stories easy as never before. Jakub Gornicki presents tools and techniques for innovative digital storytelling by human rights defenders.
Virtual reality for human rights storytelling
Virtual reality (VR) offers new ways for audiences to experience human rights. Milena Milicevic presents on how human rights defenders can make use of this opportunity.
---

The brain-perspective
Recent neuroscience research gives us new insights into the processes underlying human biases and decision-making. Kate Evans shares ideas on how to make use of these insights to become a better communicator.
"I really enjoyed watching and learning from these short videos. As HRDs digital communication is a big challenge, having the opportunity to learn how to use free tools to increase our reach-out, will help many of us."
Feedback collected during the Human Rights Monitoring and Safety and Security for HRDs, ODIHR June 2018
Finding information
Open source investigations and big data
Every day huge amounts of personal data, videos, images, and locations are being shared online. Keith Hiatt explains how such data can be collected, verified and presented in the form of open source investigations, allowing for uncovering and documenting human rights violations.
Citizen-generated data and data monitoring
The presenter discusses how civil society activists can directly work with their communities at the grass-roots level to produce and use citizen-generated data for human rights advocacy and social change.
Boosting your campaign
"Race for freedom" campaign
Speaking the language of your audience is key to successful human rights campaigning. Aris Kardasilaris explains how he participated in a Greek motorcycle championship to raise awareness of human trafficking among members of the biker community in Greece.
Creating viral campaigns
Christian Brienen shares insights into the creation of successful campaigns and communication strategies that human rights defenders can employ to make their messages go viral.

Data advocacy / data visualization
Data are one of the backbones of human rights work. Jason Addie explains how human rights defenders can visualize their findings in a professional and targeted manner.
Ethical dilemmas in communicating sensitive issues
Conducting human rights work, especially online, can have a negative impact on the wellbeing of activists themselves. Cameran Ashraf details the challenging impact difficult human rights work can exert on the mental and physical health of activists and suggests ways to overcome some of those negative effects.
Effective gender-sensitive messaging
Tomislav Korman presents a practical guide for human rights defenders on making their communication efforts more inclusive and gender-sensitive.
Reaching your audience
"Arranged!": Board game
Nashra Balagamwala transformed the stories behind arranged marriages into a board game in which participants are confronted with the struggles of an arranged marriage and experiences of South-Asian cultural norms, such as skin whitening, secret boyfriends and dowries.
Brain Power
This panel discussion covers behavioural psychology and the science behind communication and messaging, along with their added value for human rights defenders.
All these videos were recorded during the Human Rights Communication 2.0 event, which was co-organised by ODIHR and Central European University. It took place in Budapest in December 2017 and focused on innovative communication approaches and tools for human rights defenders.